Our best selling model for Particulate Reduction: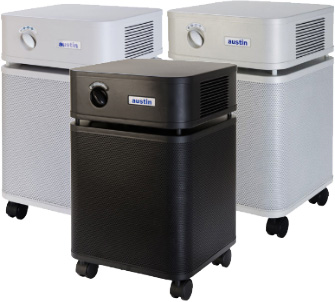 Particulate Air Filters
air filters designed specifically to remove particulate contaminants such as dust, dust mites, mold spores, pollen & pet dander
We strongly recommend the use of a HEPA (High Efficiency Particulate Air) filter to remove airborne particulate matter including dust, pollen, mold spores, pet dander, and dust mites from the air. Medical grade or "true" HEPA will remove 99.97% of particles that are 0.3 microns or larger from the air, and they will maintain or increase their effectiveness over time. No other filter technology offers comparable long-term effectiveness with so little maintenance. To learn more about HEPA, click here.
We carry 2 lines of HEPA air filters, Austin Air and Airpura. Both have excellent quality HEPA filters and are backed by strong warranties. Each brand offers a number of filter options. Selection of an appropriate model should be based largely on the secondary contaminants you wish to remove since all of these systems will do an excellent job of particulate removal. Consideration should also be given to your budget, the size of the room you wish to treat (air processing rate), the amount of HEPA media, and filter life.
Air Processing Rate:
Austin Models: 400 cubic feet per minute except Jr. models (200 cubic feet / min.)
Airpura Models: 560 cubic feet per minute
Amount of HEPA Media:
Austin Models: 60 square feet except Jr. models (30 sq. ft)
Airpura Models: 40 square feet except I-600 which features 100 sq. ft
Top Ranking Air Filters for Particulate Reduction

Austin
HealthMate
US$714.99
all purpose


Dust

excellent

Dust
Mites

excellent

Mold
Spores

very good

Pollen

very good

Pet
Dander

very good

Tobacco
Smoke

good

Chemicals
& VOCs

very good

General
Odors

very good

Bacteria/
Viruses

poor
---

Austin
HealthMate+
w/ Superblend
US$854.99
formaldehyde


Dust

excellent

Dust
Mites

excellent

Mold
Spores

very good

Pollen

very good

Pet
Dander

very good

Tobacco
Smoke

very good

Chemicals
& VOCs

excellent

General
Odors

very good

Bacteria/
Viruses

poor
---

Austin
Allergy
Machine
US$634.99
allergens


Dust

excellent

Dust
Mites

excellent

Mold
Spores

very good

Pollen

very good

Pet
Dander

very good

Tobacco
Smoke

good

Chemicals
& VOCs

good

General
Odors

good

Bacteria/
Viruses

poor
---

Austin
Pet Machine
US$654.99
pet dander


Dust

excellent

Dust
Mites

excellent

Mold
Spores

very good

Pollen

very good

Pet
Dander

excellent

Tobacco
Smoke

good

Chemicals
& VOCs

very good

General
Odors

very good

Bacteria/
Viruses

poor
---

Airpura
R600
US$749.98
all purpose


Dust

excellent

Dust
Mites

excellent

Mold
Spores

very good

Pollen

very good

Pet
Dander

very good

Tobacco
Smoke

good

Chemicals
& VOCs

very good

General
Odors

very good

Bacteria/
Viruses

poor
---

Airpura
V600
US$849.98
VOCs / chemicals


Dust

excellent

Dust
Mites

excellent

Mold
Spores

very good

Pollen

very good

Pet
Dander

very good

Tobacco
Smoke

very good

Chemicals
& VOCs

excellent

General
Odors

very good

Bacteria/
Viruses

poor
---

Airpura
UV600
US$949.98
microorganisms


Dust

excellent

Dust
Mites

excellent

Mold
Spores

very good

Pollen

very good

Pet
Dander

very good

Tobacco
Smoke

good

Chemicals
& VOCs

very good

General
Odors

very good

Bacteria/
Viruses

good
---

Airpura
P600 / P600+
Starting at:
US$1,199.98
photocatalytic
oxidation


Dust

excellent

Dust
Mites

excellent

Mold
Spores

very good

Pollen

very good

Pet
Dander

very good

Tobacco
Smoke

very good

Chemicals
& VOCs

excellent

General
Odors

excellent

Bacteria/
Viruses

good
---

Airpura
H600
US$689.98
allergies & Asthma


Dust

excellent

Dust
Mites

excellent

Mold
Spores

very good

Pollen

very good

Pet
Dander

very good

Tobacco
Smoke

poor

Chemicals
& VOCs

poor

General
Odors

fair

Bacteria/
Viruses

poor
---

Airpura
I-600
with UV
US$769.98
healthcare


Dust

excellent

Dust
Mites

excellent

Mold
Spores

very good

Pollen

very good

Pet
Dander

very good

Tobacco
Smoke

poor

Chemicals
& VOCs

poor

General
Odors

fair

Bacteria/
Viruses

good
---

Airpura
F600
US$899.98
formaldehyde


Dust

excellent

Dust
Mites

excellent

Mold
Spores

very good

Pollen

very good

Pet
Dander

very good

Tobacco
Smoke

good

Chemicals
& VOCs

excellent

General
Odors

very good

Bacteria/
Viruses

poor
---