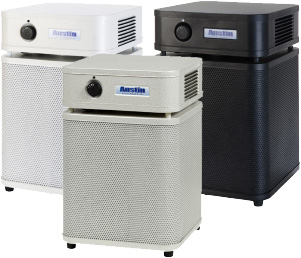 Austin HealthMate Junior Air Purifiers
Our most popular general purpose medical-grade air purifier! Originally designed and engineered specifically for allergy and asthma sufferers, like all Austin air cleaner models, the Austin HealthMate features a 4-stage filter system including 2 pre-filters, medical-grade HEPA, and activated carbon filtration to remove both airborne allergens and particles, and more than 250 hazardous/noxious vapors, gases, and fumes. The Austin HealthMate's HEPA filter is capable of removing more than 99.97% of all particles greater than 0.3 microns in size and approximately 95% of particles down to 0.1 microns, making it ideal for the removal of pet dander, dust mites, pollen, mold spores, and other particulate contaminants.
Recommended Application: The Austin HealthMate is an excellent choice for homeowners seeking medical-grade filtration for removal of common allergens and a wide range of chemical contaminants at a very economical price.
Austin HealthMate Junior HM200 works best in rooms up to 225 sq ft.
Austin HealthMate Junior is currently available in 4 colors:
Natural Sandstone
very relaxed and natural appeal
Black
contemporary style
Velvet Coat White
velvety feel, elegant finish
Blue
modern look
Austin air Healthmate Junior Contaminant Removal Ratings:

Dust

excellent

Dust
Mites

excellent

Mold
Spores

very good

Pollen

very good

Pet
Dander

very good

Tobacco
Smoke

good

Chemicals
& VOCs

very good

General
Odors

very good

Bacteria/
Viruses

poor
Austin Air Healthmate Junior Benefits:
excellent value (price relative to performance)
very good general allergen & chemical removal
long-filter life & unique pro-rated filter-life warranty
good volume of activated carbon and HEPA media
quality of construction - made in USA
reputation of manufacturer is excellent
Austin HealthMate Junior Specifications:
Purifier / Filter Type
4-stage progressive filtration:
2 stage pre-filter
+ combination medical-grade (true) HEPA
and activated carbon & zeolite filter
Air Handling Rate / Coverage
200 cubic feet / minute
225 sq. ft 6x / hr.
750 sq. ft 2x / hr.
Fan Type
Centrifugal fan with 3-Speed control
Amount of HEPA
30 sq. ft
Amount of Carbon
6.5 lbs.
Air Intake
360 degrees
Power Consumption (High Setting)
80 watts
Size & Weight
Height: 16.5"
Width: 11.0" x 11.0"
18 lbs.
Noise Level
High 65 dba
Medium 60 dba
Low 49 dba
Materials / Finish
All steel construction with baked-on powder-coat finish
4 color options
Est. Filter Life
5 years (pro-rated 5 year filter-life warranty
when used in residential applications)
Safety Approvals
CSA / CE
Warranty & Guarantee
Manufacturer's 5-Year Mechanical Warranty
30-day Satisfaction Guarantee
Other Features
- High efficiency shaded pole motor rated
for continuous use at high RPM & long life
- easy filter access
- foam sealing gaskets top and bottom
Austin Healthmate Junior Replacement Filters
30-Day, No-Questions-Asked, Money-Back Guarantee
In the unlikely event that you're not completely satisfied with your Austin Air cleaner, return it within 30-days, no-questions-asked. See our
return policy
for more details.
5-Year Mechanical and Pro-Rated Filter Life Warranties
All Austin Air cleaners are warranted to be free from defects in material and workmanship for a period of 5-years from the date of purchase. Austin Air also offers a 5-year pro-rated filter warranty, by far the most comprehensive in the industry.