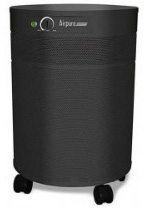 Airpura I-600 (I600) Air Purifier
features huge 100 sq foot HEPA filter for hospital grade particulate filtration
Featuring a 3 inch deep hospital-grade HEPA filter with 10 pleats per inch, for a massive 100 square foot surface area, the Airpura I-H600 was designed specifically for clinics, hospitals, and other health institutions, as a economical, yet highly effective particulate filter. The true medical-grade HEPA filter media traps 99.97% of particles .3 microns and larger, and roughly 95% of particles down to 0.1 microns, making it ideal for the removal of dust, pet dander, dust mites, pollen, mold spores, and other common allergens. The HEPA filter is warm rolled to reduce cracking at the folds and subsequent air leakage.
The Airpura I-600 also includes a vacuumable pre-filter, and a 306 square inch Hi-C carbon weave filter to offer basic removal of airborne gases, chemicals, and suppress odors.
An optional UV sterilizer for airborne bacteria, viruses, and other microorganisms is also available. The intense UV light penetrates the cell wall of the microorganism and destroys its DNA thereby rendering it incapable of causing illness. UV sterilization has many advantages over conventional methods of killing microbiological contaminants in that it is extremely effective, chemical free, produces no harmful bi-products, produces limited excess heat, is energy-efficient, is very easy to maintain, and is cost effective to both purchase and maintain. The "U" shaped UV lamp is roughly double the length of competitor's lamps, allowing for a much higher UV dose.
The I-600 is equipped with a 560 cubic foot per minute variable-speed fan with a one-piece assembly to reduce vibration and noise, felt gaskets to prevent contaminant bypass (many competitors use rubber seals that off-gas VOCs), and an attractive powder-coated steel mesh housing with 360 degree intake.
Recommended Application: The Airpura I-600 is recommended for hospitals, clinics, and other medical facilities requiring removal common airborne particulates such as dust, dust mites, mold spores, pollen, and pet dander, to relief allergy and asthma symptoms. When equipped with the optional UV sterilizer, the I-600 is also recommended for use in patient isolation rooms and for removal of airborne viruses and bacteria.
Airpura I-600 is currently available in 3 colors:
White
clean, appliance-like finish
Black
matte finish, contemporary style
Cream
neutral, natural appeal
Airpura I-600 Contaminant Removal Ratings:

Dust

excellent

Dust
Mites

excellent

Mold
Spores

very good

Pollen

very good

Pet
Dander

very good

Tobacco
Smoke

poor

Chemicals
& VOCs

poor

General
Odors

fair

Bacteria/
Viruses

poor
Airpura I-600 Benefits:
excellent air processing rate (560 cf/min.)
quieter than Austin Healthmate at equivalent fan speed
very good general allergen control
quality of construction
optional UV sterilizer for bacteria and virus reduction
Airpura I-600 Specifications:
Purifier / Filter Type
True HEPA with pre-filter
Optional Hi-C carbon weave filter
Optional 20 Watt Ultraviolet (UV) Sterilizer (30,000 µm/cm2)
Air Handling Rate / Coverage
560 cubic feet / minute
700 sq. ft 6x / hr.
2,100 sq. ft 2x / hr.
Fan Type
Centrifugal fan with variable speed control
Amount of HEPA
100 sq. ft
Amount of Carbon
none / optional 306 sq in. carbon weave
Air Intake
360 degrees
Power Consumption (High Setting)
120 watts (w/o UV)
Size & Weight
Height: 23.0"
Diameter: 15.0"
35 lbs.
Noise Level (@ 6ft)
Highest 62.3 dba
Lowest 28.1 dba
Materials / Finish
All steel construction with powder-coat finish
3 color options
Est. Filter Life
pre-filter: 4-12 months
HEPA filter: 5 years
Optional HI-C Carbon Filter: 4-6 months>nr>Optional UV Lamp: 10,000 hours
Safety Approvals
ETL Certified (conforms to ANSI/UL 507, CSA C22.2 no 113)
Warranty & Guarantee
Manufacturer's 2-Year Parts, 5-year Labor Warranty
Other Features
- easy filter access
- felt sealing gaskets
- caster wheels
2-Year Parts, 5-year Labor Warranty!
The Airpura I-600 has a 2 year parts replacement / 5 year labour warranty.
Airpura I-600 Replacement Filters: