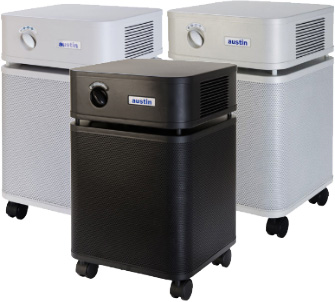 Discontinued
Austin Air Pet Machine
The Austin Air Pet Machine is not currently available.
Austin Pet Machine
The Austin Pet Machine was designed specifically to help relieve the symptoms of common pet allergies caused by pet dander (dog and cat) and bird feather dust. The Pet Machine also uses a specialized carbon filter to reduce most odors associated with pets.
In addition to featuring a medical-grade true HEPA filter to remove common airborne allergens including dust mites, pollen, mold spores, and pet dander, it also features an activated carbon filter which removes odors and chemical contaminants. The HEPA filter is capable of removing more than 99.97% of all particles greater than 0.3 microns in size and approximately 95% of particles down to 0.1 microns.
Recommended Application: This filter is a good choice for individuals with pets and who suffer from allergies associated with dog and cat dander and bird feather dust, or that are seeking to reduce common odors associated with their pets.
Austin Pet Machine is designed for higher contamination levels or larger rooms and spaces up to 500 sq ft.
Austin Pet Machine is currently available in 2 colors:
Natural Sandstone
very relaxed and natural appeal
Black
contemporary style
Austin Air Pet Machine Contaminant Removal Ratings:

Dust

excellent

Dust
Mites

excellent

Mold
Spores

very good

Pollen

very good

Pet
Dander

excellent

Tobacco
Smoke

good

Chemicals
& VOCs

very good

General
Odors

very good

Bacteria/
Viruses

poor
Austin Air Pet Machine Benefits:
emphasis on allergens and odors associated with pets
long-filter life & unique pro-rated filter-life warranty
quality of construction - made in USA
reputation of manufacturer is excellent
Austin Pet Machine Specifications:
Purifier / Filter Type
4-stage progressive filtration:
2 stage pre-filter
+ combination medical-grade (true) HEPA
and specialized activated carbon filter
Air Handling Rate / Coverage
400 cubic feet / minute
500 sq. ft 6x / hr.
1,500 sq. ft 2x / hr.
Fan Type
Centrifugal fan with 3-Speed control
Amount of HEPA
60 sq. ft
Amount of Carbon
15 lbs.
Air Intake
360 degrees
Power Consumption (High Setting)
115 watts
Size & Weight
Height: 23.0"
Width: 14.5" x 14.5"
45 lbs.
Noise Level
High 66 dba
Medium 55 dba
Low 50 dba
Materials / Finish
All steel construction with baked-on powder-coat finish
4 color options
Est. Filter Life
5 years (pro-rated 5 year filter-life warranty
when used in residential applications)
Safety Approvals
CSA / CE
Warranty & Guarantee
Manufacturer's 5-Year Mechanical Warranty
30-day Satisfaction Guarantee
Other Features
- permanent split capacitor motor
for continuous use at high RPM & long life
- easy filter access
- foam sealing gaskets top and bottom
- caster wheels
Austin Pet Machine Replacement Filters
30-Day, No-Questions-Asked, Money-Back Guarantee
In the unlikely event that you're not completely satisfied with your Austin Air cleaner, return it within 30-days, no-questions-asked. See our
return policy
for more details.
5-Year Mechanical and Pro-Rated Filter Life Warranties
All Austin Air cleaners are warranted to be free from defects in material and workmanship for a period of 5-years from the date of purchase. Austin Air also offers a 5-year pro-rated filter warranty, by far the most comprehensive in the industry.