Our best selling model for tobacco smoke: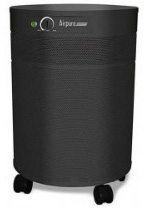 Tobacco Smoke Air Purifiers
air filters designed specifically to remove tobacco smoke and related chemical contaminants and odors
Tobacco smoke presents one of the most difficult tasks for a portable air purifier. In addition to removing large smoke particles, the filter must be capable of removing odors and hundreds of chemical and gaseous contaminants while retaining them within the filter. We strongly believe that the best available technology to remove environmental tobacco smoke is activated carbon. To learn more about activated carbon, click here.
While almost all of our Austin Air and Airpura air purifiers contain activated carbon filters, certain models are better suited for smoke removal. The greatest factor in smoke removal effectiveness is the volume of activated carbon present in the filter. Furthermore, certain models contain specially impregnated carbon, secondary tar filters, or other technologies to assist in the reduction of certain contaminants found in tobacco smoke. Of course, consideration should also be given to your budget, the size of room you wish to treat (air processing rate), the removal of other contaminants, and filter life.
Air Processing Rate:
Austin Models: 400 cubic feet per minute except Jr. models (200 cubic feet / min.)
Airpura Models: 560 cubic feet per minute
Top Ranking Air Filters for Tobacco Smoke
Our top choice is the Airpura T600. Designed specifically to remove harmful contaminants from environmental tobacco smoke (ETS), the Airpura T600 features a specialized TarBarrier pre-filter to remove tars as well as an extra large 3" activated carbon bed (26 lbs of carbon!) to remove most known chemicals and gases found in tobacco smoke; these include at least 60 confirmed carcinogens. A HEPA-grade post filter removes airborne particulate matter. It also has an excellent air handling rate of 560 cublic feet per minute which results in faster air turnover after recontamination of the room.
Other models that are recommended by our staff for tobacco smoke include the AirPura V600, Austin Healthmate Plus with Superblend, and Airpura C600.

Airpura
T600
US$899.98
tobacco smoke


Dust

very good

Dust
Mites

very good

Mold
Spores

good

Pollen

good

Pet
Dander

good

Tobacco
Smoke

excellent

Chemicals
& VOCs

very good

General
Odors

excellent

Bacteria/
Viruses

poor
---

Airpura
V600
US$849.98
VOCs / chemicals


Dust

excellent

Dust
Mites

excellent

Mold
Spores

very good

Pollen

very good

Pet
Dander

very good

Tobacco
Smoke

very good

Chemicals
& VOCs

excellent

General
Odors

very good

Bacteria/
Viruses

poor
---

Austin
HealthMate+
w/ Superblend
US$854.99
formaldehyde


Dust

excellent

Dust
Mites

excellent

Mold
Spores

very good

Pollen

very good

Pet
Dander

very good

Tobacco
Smoke

very good

Chemicals
& VOCs

excellent

General
Odors

very good

Bacteria/
Viruses

poor
---

Airpura
C600
US$899.98
airborne chemicals


Dust

very good

Dust
Mites

very good

Mold
Spores

good

Pollen

good

Pet
Dander

good

Tobacco
Smoke

very good

Chemicals
& VOCs

excellent

General
Odors

excellent

Bacteria/
Viruses

poor