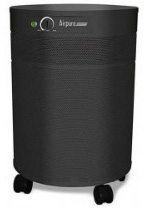 Airpura T600 Air Purifier for Tobacco Smoke
features special TarBarrier pre-filter and deep carbon bed to remove gases, chemicals, and tars found in tobacco smoke / second hand smoke
Designed specifically to remove harmful contaminants from environmental tobacco smoke (ETS), the Airpura T600 features a specialized TarBarrier pre-filter to remove tars, as well as an extra large 3" activated carbon bed (26 lbs or carbon!) to remove most known chemicals and gases found in tobacco smoke, including at least 60 confirmed carcinogens. A HEPA-grade post filter removes airborne particulate.
The Airpura T600 is equipped with a 560 cubic foot per minute variable-speed fan with a one-piece assembly to reduce vibration and noise, felt gaskets to prevent contaminant bypass (many competitors use rubber seals that off-gas VOCs), and an attractive powder-coated steel mesh housing with 360 degree intake. The Airpura 600 series has one of the highest air processing rates in the industry, however, noise level from the fan remains well below competitor's models with less air flow.
The T600 is recommended for spaces up to 2,000 square feet, however, it is important to keep in mind that due to the high rate of re-contamination in smoking areas, a high air turnover rate (at least 6 times per hour) is generally preferred. This unit will clean roughly 700 sq ft. 6 times per hour.
Filter lives estimated below are highly dependent upon level of smoke. Although this unit is designed specifically for demanding smoke removal tasks, extreme smoke levels will reduce filter life and unit performance. Home use will generally result in longer filter life than stated below.
Recommended Application: The Airpura T600 is an excellent choice for homeowners who smoke, for dedicated workplace smoking areas, restaurants, bars, and other locations where tobacco smoke is the primary air quality concern.
Airpura T600 is currently available in 3 colors:
White
clean, appliance-like finish
Black
matte finish, contemporary style
Cream
neutral, natural appeal
Airpura T600 Contaminant Removal Ratings:

Dust

very good

Dust
Mites

very good

Mold
Spores

good

Pollen

good

Pet
Dander

good

Tobacco
Smoke

excellent

Chemicals
& VOCs

very good

General
Odors

excellent

Bacteria/
Viruses

poor
Airpura T600 Benefits:
best option for tobacco smoke contamination
large carbon bed for enhanced gas, chemical (VOC), and odor removal
excellent air processing rate (560 cf/min.)
quieter than Austin Healthmate at equivalent fan speed
quality of construction
separate tar, HEPA, and carbon filters - the HEPA and carbon filters can be changed separately
Airpura T600 Specifications:
Purifier / Filter Type
multi-stage progressive filtration:
TarBarrier pre-filter and micro-supress filters
large activated carbon filter
HEPA post-filter
Air Handling Rate / Coverage
560 cubic feet / minute
700 sq. ft 6x / hr.
2,100 sq. ft 2x / hr.
Fan Type
Centrifugal fan with variable speed control
Amount of HEPA
306 sq inches
Amount of Carbon
26 lbs.
Air Intake
360 degrees
Power Consumption (High Setting)
120 watts
Size & Weight
Height: 23.0"
Diameter: 15.0"
49 lbs.
Noise Level (@ 6ft)
Highest 62.3 dba
Lowest 28.1 dba
Materials / Finish
All steel construction with powder-coat finish
3 color options
Est. Filter Life
(public area)
Based on use in public area - longer filter life generally expected for home use, but depends on rate of smoking
TarBarrier pre-filter: 4 weeks
carbon filter: 3 months
HEPA filter: 3 months
Safety Approvals
ETL Certified (conforms to ANSI/UL 507, CSA C22.2 no 113)
Warranty & Guarantee
Manufacturer's 5-Year Parts, 10-year Labor Warranty
Other Features
- easy filter access
- felt sealing gaskets
- caster wheels
5-Year Parts, 10-year Labor Warranty!
Airpura T600 is backed by an impressive manufacturer's 5 year parts replacement, and 10 year labor repair warranty.
Airpura T600 Replacement Filters: